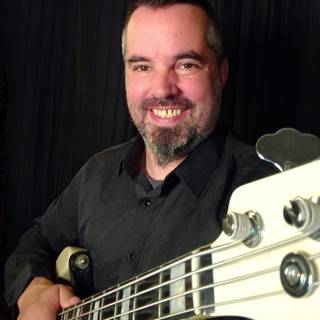 François Héroux, Electric Bass, Double Bass, Banjo, Ukulele
Teaching at:
---
Call us to check the availability of the teacher and make your registration appointment.
514 544-4636
François's passion for music began when he picked up the guitar, and then the electric bass, as an adolescent. It wasn't long before he found opportunities to bring his talent as a bassist to the stage in a variety of rock and pop bands. This love of music led him to pursue a diploma of college studies in classical double bass at Cégep de Sainte-Foy, further training at Laval University, and finally a bachelor's degree in jazz double bass at the University of Montréal, where he was fortunate enough to attend lessons with Michel Donato, among others.
François's career as a professional musician took flight during his studies when he founded an alternative-rock band called Raid. Two albums and several music videos later, the group went on tours throughout Quebec. Following that, François travelled across Canada and parts of Europe performing on the double bass with Marco Calliari. Over the course of his career, he was a member of many other ensembles spanning the gamut of musical genres, from jazz and metal to world, funk, rock, pop and beyond.
A professional musician and educator of more than 25 years, François has over 20,000 hours of teaching under his belt, which has enabled him to develop a solid instructional framework. In addition, exposure to the different learning styles and needs of his students has equipped him with the ability to concisely explain complex concepts in simple terms and tailor his students' lessons to their personal goals and desires.
Nowadays, François can still be found cultivating a variety of musical projects and honing his multi-genre talent as a double bassist with Sabbath Café, a band that pays homage to the legendary group Black Sabbath, alongside a flutist, an accordionist and a drummer. He also plays electric bass with In the Name of Rage, a cover band of the alternative-rock group Rage Against the Machine. Over the years, François has added the ukulele, slide guitar and banjo to his arsenal, allowing him to become even more multifaceted as a member of the bluegrass folk trio RiverRoad. Lastly, his multi-instrumentalist abilities are brought to their full potential in VolteVoix, a trio consisting of him and two classical singers that explores the intersection of pop and baroque.