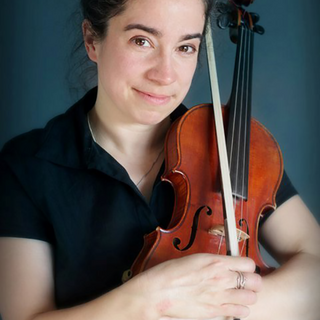 Marie-Soleil Bélanger, Violin
Teaching at:
---
Call us to check the availability of the teacher and make your registration appointment.
514 544-4636
Marie-Soleil begins the violin when she is 8 years-old at Rimouski. Admited to the Conservatoire de Musique, she turns off classical training 12 years later to study in jazz at the Concordia University under the direction of Helmut Lipsky.
In 15 years on the scene, she accompanied Yves Desrosiers, Paul Kunigis, Thomas Hellman, Richard Desjardins, Laurence Jalbert. She also recorded with Pierre Lapointe, Plume Latraverse, Lhasa de Sela. One could hear her on the sound screen of the "Small World of Laura Cadieux". It also slips towards the Indian music with the group Ragleela and she is part of the Fanfare Pourpour for 7 years. She recorded two CD of her own projects, which one is traditional music (Mademoiselle s'Amuse) and the other of improvise music (Les Salines). Marie-Soleil was discovered a talent of actress with the Moulin à Musique which produces youths shows. She presents a conference on the violin for the 7-12 years-old, completely dramatized, which makes the turn of the history and the technical and emotive possibilities of the violin.
In 2009, she turns over to take courses of jazz, with Matt Glaser this time, in very famous Berklee College of Music of Boston. From this dash is born the Trio Helico, only made up of string instruments and which interprets a repertory jazz-rock with parts of Chick Corea, Lee Morgan, Horace Silver, Duke Ellington...
Marie-Soleil teaches jazz-pop violin in Cégeps (Joliette, Ste-Therese, St-Laurent, Drummondville) since 2000.