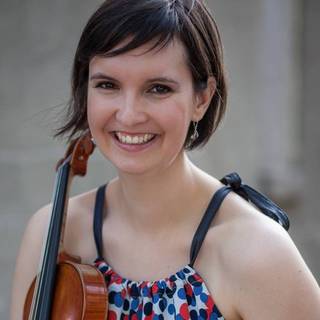 Lyne Allard, Violin
Teaching at:
---
Call us to check the availability of the teacher and make your registration appointment.
514 544-4636
Pedagogue and violinist emeritus, Lyne Allard is sought everywhere in Montreal as a teacher, chamber musician and orchestral musician. Lyne is co-founder of the Coopérative des professeurs de musique and has been a member of the co-op's board since its founding.

As a performer, Lyne has held the position of second solo violin assistant in the Metropolitan Orchestra since 2011. She has also been a member of the first violin section of the Trois-Rivières Symphony Orchestra since 2010 and plays, on occasion, with Ensemble Angèle Dubeau and pietà since 2009 with which she has participated in numerous tours in North America, South America and Asia, and has participated in record projects including Arvö Pärt, Noël, John Adams , A time for us and video games. Graduated with great distinction from the Montreal Conservatory of Music in 2006, Lyne continued her training at McGill University. During these years of training, she had the opportunity to play for the great violinists Maxim Vengerov, Vadim Repin, Leonidas Kavakos and James Ehnes. She then lived in Vancouver for two years, performing with the Vancouver Symphony Orchestra, touring Asia, and acting solo violin with the Vancouver Island Orchestra.

Lyne finds it essential to devote herself also to teaching. For the last ten years, she has multiplied her experiences at all levels: primary, secondary, college and is part of a jury of exams and competitions. She uses the Suzuki method with variations following the advice of renowned teacher Mimi Zweig, with whom she studied violin pedagogy in the summer of 2010. Lyne favours a relaxed approach to the instrument and a mastery of the main technical elements  for all instrumentalists, whether beginners or advanced.