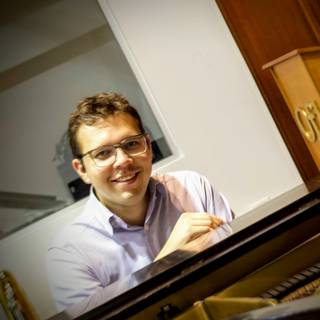 Leonardo Escobar, Piano
Teaching at:
4220, rue Drolet, Montréal
---
Call us to check the availability of the teacher and make your registration appointment.
514 544-4636
Pianist Leonardo Escobar has performed as a soloist with the National Conservatory Orchestra, the Chía Symphony Band and the Valle Symphony Band in Colombia. He has also given piano and chamber music recitals in the main cities of Colombia as well as in Lima (Peru) and Montreal (Canada). In addition, Leonardo frequently collaborates with tubist Fredy Romero (Philharmonic Orchestra of Bogotá) with whom recorded his first CD named: "TubaFortePiano" and for which received a Prize by the Ministry of Culture of Colombia.
In 2008, Leonardo obtained the 2nd prize in the 2nd Ibero-American Music Competition for the piano in Cali (Colombia). Also, Leonardo obtained the first prize in the Competition of Soloists of the National Conservatory in 2009, Honorary Diploma of the Faculty of Arts of the Universidad Nacional de Colombia in 2011, a scholarship full for master's studies by the Universidad Nacional de Colombia in 2015, the Young Talents scholarship from the Ministry of Culture of Colombia in 2017 and the Bourse d'études supérieures from the Faculty of Music of the University of Montreal in 2018 and 2021.
Leonardo began his studies with the Cuban pianist José Maria Paez. He obtained a Bachelor's Degree in Music, a Master's Degree in Piano Pedagogy and a Master's Degree in Performance from the University of Montreal. As a professor and collaborating pianist, he has worked in Colombia at the Universidad Nacional and Universidad Sergio Arboleda and in Canada at the Pantonal School.
Originally from Montería, a city on the north coast of Colombia, Leonardo Escobar is currently pursuing his doctoral studies in Piano Performance with Mr. Paul Stewart at the University of Montreal.