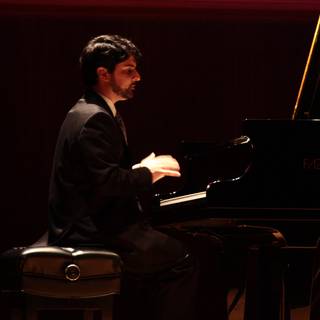 Daniel Anez, Piano
Teaching at:
---
Call us to check the availability of the teacher and make your registration appointment.
514 544-4636
Colombian pianist born in Cartagena, Colombia, 1982, Daniel Áñez started his piano studies at 9 with teachers Liliana Hernández and Mauricio Villa. In 2005 he received his Musician Pianist with Honors undergraduate diploma from the Los Andes University, Bogota, where he studied with Cuban teachers Ignacio Pacheco and Antonio Carbonell. In 2009 he finished his Master's Degree in piano performance at the University of Montreal, where he studied with Paul Stewart. He's also a doctorate piano graduate from the University of Montreal, where he studied with Paul Stewart and Lorraine Vaillancourt.
He was selected for the Cycle of Concerts for Young Performers in 2002 by the Bank of the Republic of Colombia. He won the first prize in the 3rd « Maria Clara Cullell » International Piano Competition in San José, Costa Rica, in 2004. In 2005 he won an Honorary Diploma in the National Piano Competition in the Industrial University of Santander, Bucaramanga, Colombia. As a concert pianist, he has played solo recitals in Colombia, Costa Rica, Uruguay, Argentina and Canada.
Daniel Áñez specializes in contemporary repertoire. He is part of « Ensemble CG » in Bogota, as well as Ensemble Allogène, Wapiti, Ciao Rhino and Ensemble Paramirabo in Montreal. He has participated in the premiere of works by Colombian composers Rodolfo Acosta R., Daniel Leguizamón, Camilo Méndez, and Ana María Romano, as well as premieres by Canadian composers André Hamel, Adam Basanta, Cassandra Miller and Michael Larocque, amongst others. He specializes in Latin-American repertoire.