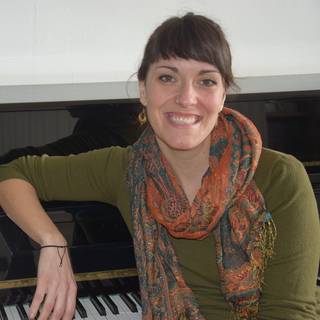 Christine Séguin, Piano
Teaching at:
---
Call us to check the availability of the teacher and make your registration appointment.
514 544-4636
Christine began playing piano at seven years old and has never looked back. After l'École secondaire Pierre Laporte (a Montreal high school specialising in music), she continued her musical education at Cégep Saint-Laurent, where she obtained a diploma in music, piano performance. In 2010 Christine graduated from the Université du Québec à Montréal  (UQAM) with a Baccalaureate in piano performance.
Christine's familiarity with and knowledge of various approaches to music pedagogy has been deepened and broadened by her involvement with a number of stimulating musical groups including Le Garage à Musique, La fondation du Docteur Julien, l'Orchestre symphonique de Montréal (Music for Children program), Les petits chanteurs du Mont-Royal, and l'Académie de musique Pierre-Laporte. As well, after several very productive years with the École de musique Enchantée, she now collaborates as accompanist for the Ensemble Vocal Wellington.
She is presently continuing her studies in both piano technique and repertoire with the well renowned pianist Jean-Pascal Hamelin.
Christine's approach to teaching is characterised by a focus on listening and an emphasis on flexibility. Her pedagogy highlights her students' inherent personal worth and self-esteem, and she is committed to transmitting her love for the beauty of art and of sound by means of both a solid piano technique and a well-rounded musical culture.