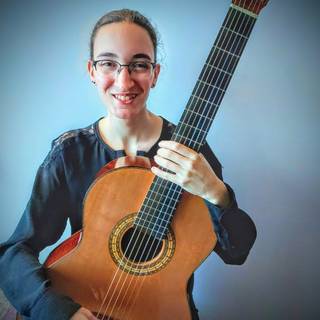 Céline Rosa-Boily, Guitar
Teaching at:
4220, rue Drolet, Montréal
---
Call us to check the availability of the teacher and make your registration appointment.
514 544-4636
Gravitating towards music since her childhood, Céline Rosa-Boily started playing guitar at the age of 12 in the classical guitar orchestra of the Marguerite-De Lajemmerais high school. Discovering then a growing passion for the classical guitar, she pursued her graduate studies at the Conservatoire de Musique de Montréal with Jean Vallières and Jérôme Ducharme, completing her bachelor's degree in 2019 in the institution. Receiving scholarships several times, she also had the chance to go to music camps like Le Camp Musical du Saguenay-Lac-Saint-Jean as well as the Domaine Forget, developing further her knowledge and skills alongside renowned guitarists. Pairing her interest in the genres of classical music and rock, Céline also took electric guitar lessons during a couple of years.
It's when directing a classical guitar ensemble and giving private guitar lessons at the Académie du Conservatoire in 2016 that Céline's interest for teaching was piqued. Wanting to convey her knowledge and to share her passion for music, she pursued this path and took a few pedagogical training sessions. Music education is much more than sharing expertise for Céline: it is self-development, the joy of learning and mostly, an exchange which enables to gain abilities as well as the love of art.
The desire to learn and explore different avenues is a constant motivation in Céline's life who is currently completing professional studies in horticulture and gardening at Le Centre de formation horticole de Laval. Tap dancing and cooking are also hobbies she explores.