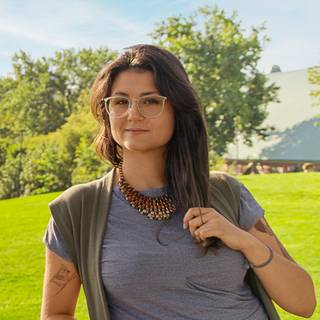 Bianca Rocha, Ukulele
Teaching at:
4220, rue Drolet, Montréal
---
Call us to check the availability of the teacher and make your registration appointment.
514 544-4636
Bianca Rocha is a Brazilian singer-songwriter who lives in Montreal since April 2019. Graduated in music from Claretiano University Center (Curitiba - Brazil) and specialized in musical education for children (early music education), with more than 20 years of experience in different fields of music, As a young talented artist she has been in the making since she was only 3 years old. Finding time to play and sing she was able to collect some awards on the road, being 4 times winner of Regional Champion an National Champion of music Nativista (South Brazilian gaucha music) between 1992 and 1998; Semi-finalist in the talent show Raul Gil - TV Record in 2003 and Revelation Artist Award at the FUC-BR (University Song Festival) in 2005. As a songwriter, she composed and produced soundtracks for 4 children's plays between 2014 and 2017. As a singer or a vocal coach she contributed on the records of some talented artists albums, such as Diogo Ramos and Boogát, Du Gomide, Rodrigo Simoes, Alisson Camargo, Guillaume Dion, Claudio Chaves, Athon Gallera, Florian Bill, Xyko Ferreira and Carlito Birolli. Since her arrival in Montreal, she has been part of several musical projects, such as Jazz brésilien by Rodrigo Simões, Eletrosamba by Diogo Ramos and Boogát and the multicultural Trans Portée by Guillaume Dion, with them, she had the opportunity to learn and fall in love with Quebec musical culture, from small outdoor concerts to major festivals such as Nuits d'Afrique, where she performed in the 2019 and 2021 editions. Whether on stage, in the studio or in the classroom, Bianca truly enjoys always connecting with music and exploring the wonderful things it allows us to reach, which is interaction and communication beyond words.