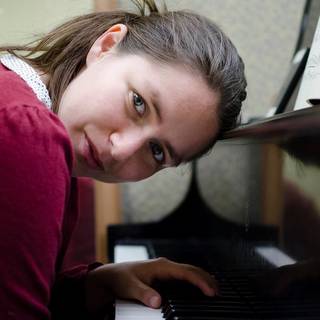 Manuela Osorno-Chavez, Piano
Teaching at:
4220, rue Drolet, Montréal
Rosemont
---
Call us to check the availability of the teacher and make your registration appointment.
514 544-4636
Born in Bogotá, Manuela began her musical studies in 2002 in the Pre-Basic Program of the Conservatory of Music in the Nacional University of Bogotá, Colombia. In September of 2003, she began private piano lessons with the Polish pianist, Ludmila Weber, remaining under her tutelage until March of 2007. She completed her undergraduate studies at EAFIT University of Medellin in 2013 with one of her most important mentors, Professor Blanca Uribe, graduating with honors for academic excellence. Manuela finished her masters degree at Texas Christian University with Professor Harold Martina in 2017. Currently she is in her third year of doctors program in Piano performance at Montreal University under the guidance of Jean Saulnier.
Throughout her carrier as a soloist she has played in the main halls and cities of Colombia such as Cali, Medellín, Cartagena, Cucuta, Popayan, Pasto, and Bogotá.  She has played as a soloist with some of the professional orchestras from Colombia, Orquesta  Filarmonica de Cali, Sinfonica de EAFIT (Medellín),  Orquesta Academia Filarmonica de Medellín, Orquesta Sinfonica de Caldas and Orquesta Sinfonica de Colombia, and has also won important competitions in Colombia including the Serie de los jovenes interpretes (Bogotá) in both categories of soloist and chamber performance. She earned the prize "Bogotá es Beethoven" in a festival highlighting Beethoven´s music through recitals and competitions.
She has also performed in important halls in North America such as Sale Claude Champagne in Montreal university, Pepsical Hall in Texas Christian University, and as a participant of festivals such as the Tanglewood piano festival for youth in 2011.
As part of her passions, the pedagogy has also play an important role, not only as a piano teacher but also as a chamber music and accompaniment teacher.  Not only focused on her solo playing, Manuela has also won many chamber music competitions, and has work and teach as a full-time accompanist in TCU, EAFIT university and Antioquia University.  For the last three years she has giving priority to the pedagogy for children's and searching courses and methods to improve her skills on this field.  In this year she has though secondary piano at Montreal university and she's currently teacher in the Cooperative de professeurs de musique de Montreal, where she teaches mostly children's and young people.