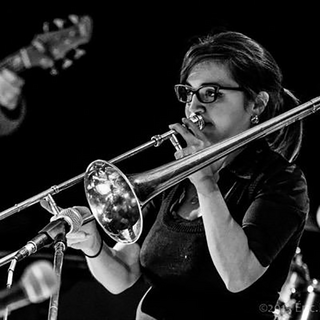 Karine Gordon, Trombone
Teaching at:
4220, rue Drolet, Montréal
---
Call us to check the availability of the teacher and make your registration appointment.
514 544-4636
Karine begins her career at Cégep Drummondville where she specializes in classical trombone before moving towards a jazz profile. She continues her musical studies at McGill University, where she obtains a baccalaureate. She has the chance to be part of several ensembles during her studies, such as the McGill Jazz Orchestra and the McGill Trombone Ensemble.
Following an injury, she develops her interest in teaching. She comes across musical awakening for the first time in 2012. While she's enrolled in various psychology courses at the University of Montréal, Karine began to give musical awakening lessons to children of Montreal daycares.
Today, she continues to spread her love of music through teaching. She conducts community jazz ensembles. She is a brass specialist in various schools. She also teaches musical awakening and continues to take an interest in pedagogy to provide a high quality education.