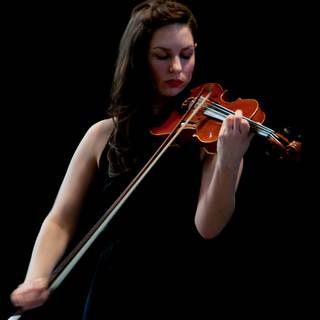 Geneviève Liboiron, Violin
Teaching at:
---
Call us to check the availability of the teacher and make your registration appointment.
514 544-4636
Born in Rosemère, Geneviève now lives in Montréal since more than 8 years. Geneviève studied with numerous skilled violonists and teachers. She started collective violin lessons at the age of 7 and pursued it in high school. At 17, she entered Claude Deltell's violin class at Cégep Marie-Victorin. She joined Anne Robert's class  for Bachelor at l'Université de Montréal and at the Orford arts center in masterclass training, right after meeting her. Geneviève had a scholarship for ''l'Orchestre de l'Académie d'Orford'' with Maestro Kent Nagano and Maestro Jean-François Rivest in summer 2010. She also had the chance to study with Jonathan Crow, Andrew Wan and Claude Richard that same summer and was a scholarship student for the Kayaleh Violin Academy of Geneva to study with Maestro Habib Kayaleh. She was an invited guest at the same academy, later that same summer, to play in the academy chamber orchestra with soloists Laurence Kayaleh et Jutta Puchammer. As she felt her passion growing for modern music, she took the new music session with the Nouvel Ensemble Moderne at Le Domaine Forget, working with Alain Giguère, Johanne Morin and Lorraine Vaillancourt during summer 2011. She has been a member of l'Orchestre de la Francophonie in summers 2008, 2011 and 2012. She's also a member of Orchestre 21, Ensemble Arkea, Ensemble Paramirabo and a violon/theory teacher at Vincent-d'Indy school of music, Crescendo school of music, and Externat Mont-Jésus-Marie.
Geneviève graduated at l'Université de Montréal for her Bachelor with Anne Robert and Laurence Kayaleh and is now doing her Master with Laurence Kayaleh in the same faculty.